The day of April 9th 2014 will be remembered for long by the people related to project portfolio management, as it was the date of first event in Poland that was oriented solely on the subject of PPM and PMO. On this day in Bristol Hotel in Warsaw the first Portfolio Experience conference was hosted by WHITECOM Project Experience company.
By the time of conference's opening most of the attendants already arrived, and after few more minutes came few "late birds". Along with the speakers, there were 80 people in the conference room. Although it may seem rather small number, especially when comparing to other project management events, keep in mind that those 80 people were directly related with PMO's and project portfolio management, and half of them declared themselves as project portfolio managers!
Aside from very special PPM theme, the conference had quite exceptional form. Attendant sat at large, round tables, from 8 to 10 people each, what created unusual (in conference terms) atmosphere, in which it was much easier to network and build contacts with other professionals, and comment speakers' presentations. Although – taking into account speakers and their subjects chosen by the organizers – it was hard to find even a moment to make any comments during those interesting and substantive speeches.
Organizers of Portfolio Experience 2014 conference, while having in mind integration of Polish project portfolio managers and PMO leaders, really tried to make this event valuable for its attendants. After short opening and introduction by Maciej Bodych, president of WHITECOM Project Experience company, world-renowned Alfonso Bucero from Spain started his show, and was rewarded with applause. Alfonso is a consultant in area of project and project portfolio management, and he delivers trainings and consulting work all around the world, as well as cooperates with WHITECOM Project Experience. In his colorful, anecdotes and jokes filled speech, he focused on how to get support from organization's board for project portfolio management. Alfonso supported his story by his rich experiences, gained through many years of career as an external consultant.
Mr. Bucero highlighted in his presentation the need of portfolio management in the top management of organizations; on the example of one of his clients Alfonso pointed out that not everyone can be aware of the operations of PPM, some may not be confident about its importance, and it is crucial to "sell" them this need. According to speaker, it is very important to show tangible arguments for the implementation of PPM, and those arguments should be shown on various levels, eg for project managers, to be aware of the fact, that their projects are not the only ones in the organization, and what is their position in relation to other projects.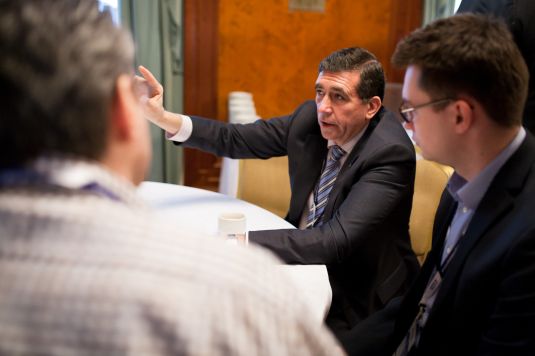 Organizations awareness for project portfolio management processes is particularly important for the success of eg reporting, and the further development of the project management maturity level. Concluding his lecture, Alfonso draw attention to the effects of his actions on the side of customer: 40% of the projects under consideration were not run and eliminated from the portfolio, improved communication between the engineering department and the business units, changed the approach to the processes of portfolio and improved proactivity. Speaker stressed that in order to succeed in promoting portfolio, its manager must be really passionate about it; his enthusiasm for what he does must be contagious. He should also be persistent and not give up after the initial failures. Portfolio manager or head of the PMO must also be very patient – implementation of PPM good practices at the highest level of organization is a long-term involvement, and cooperation between people from different areas of the organization will be difficult.
If there happened to be some people who came to the conference a bit sleepy, Alfonso's performance surely woke all of them up for good, and created the ground for further talks. The second interesting lecture was delivered by a consultant from Ireland, Gabrielle O'Donovan. Her more than 20 years of international experience and specialization in the field of change management in organizations helped draw the attention of delegates to the very important aspect of mature project portfolio management, which is the skillful combination of organizational change management processes with the elements of portfolio management. Gabrielle's presentation shown a very high level of knowledge, but it was also relatively niche knowledge, even among the managers of portfolios – subjects, which she presented can be applied mainly in companies with a high level of project portfolio management maturity. It drew attention to the value of common language in the organizations regarding change management and project portfolio management. Gabrielle pointed to the differences between one and the other, for example in the area of Key Performance Indicators; for people involved in the field of project management, indicators such as time, quality cost, scope, risk and benefits count, while people from change management understands KPI's as the technical aspects, the possibilities of individuals, or the ability of the entire organizations. Differences in the meaning of word, or differences in the naming also occur at the level of project documentation and documentation changes. In fact, it is possible to standardize documentation in both areas, and Gabrielle promoted the view in which a combination of organizational change management and project portfolio management is able to reduce the number of failed projects.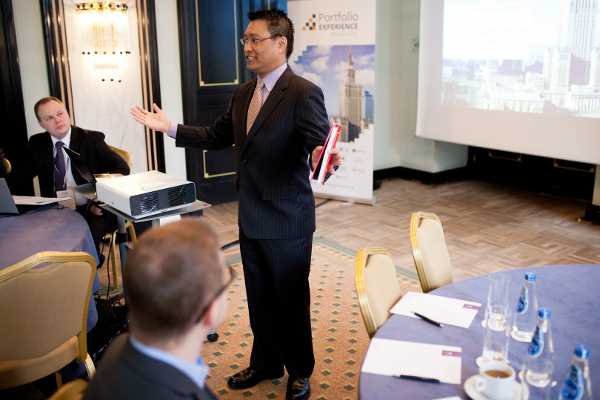 After a short break, Johnny Mo, a Canadian of Chinese origin entered scene. His presentation focused attention of audience, because he has the title of "Distinguished Toastmaster", which recognizes the best speakers associated with Toastmaster International. Johnny left hard subjects of project portfolio processes, and focused on inspiring attendees to take action. The way in which he presented his subject, as well as very moving video, which he included at the end of his speech, caused great excitement in the room, and influenced everyone. From the substantive side, Johnny talked a lot about the role of communication in projects and project portfolio, and drew attention to the fact that the idea of proper communication is recently being marginalized, what can be seen even in placing the information about it in editions of the PMBOK® Guide. Communication, as standard proclaims, was considered one of the most important reasons for failures or successes in projects.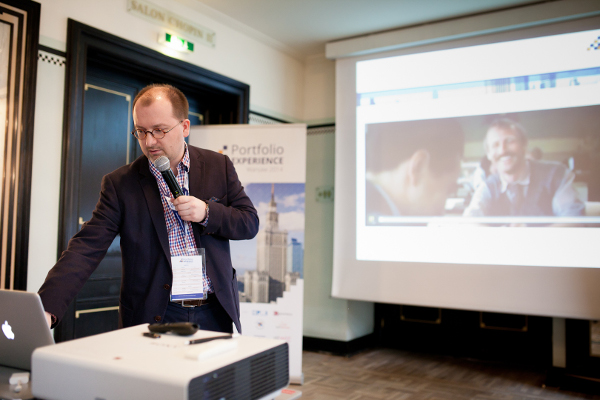 In the "difficult" time of every conference (a while before the dinner is served), there was a local speaker, Olgierd Annusewicz, PhD, known for his television appearances and numerous publications. Olgierd's presentation focused primarily on organizational promotion of projects for project portfolio managers and heads of PMO. Speech was very interesting, but definitely more project then portfolio oriented. In the vast majority it concerned the soft aspects of managements; questions were asked about the overall image management: where are we? why there? where do we want to go? how to get there? which way is the shortest? etc. Just as Johnny Mo, Olgierd stressed the importance of communication in organization, as the basis for cooperation with stakeholders. He pointed out that the form, content and frequency of communication should be considered from the side of "resistance" to change of the attitude of stakeholder, through building the "image" of projects or project portfolios, and gaining the support of the right people. Stakeholders of the portfolio should be involved in kick-off meetings of various projects; interesting practice is also to send information to the organization about starting important projects directly by the president or the board member; information on the project portfolio should appear even in the company's newspaper, and – according to the newest fashion – portfolio manager should create... a blog of the portfolio, on – for instance – SharePoint or organizational social network.
After the dinner there was a presentation by Mr. Wiesław Kosieradzki, PhD, Eng., president of P2Ware and Gold Sponsor of the conference. Mr. Wiesław presented a new generation of software for project and project portfolio management with case studies of its implementation. Many people liked the presentation and the spent some time at the P2Ware booth. The software available on the market under the name of P2Ware Project Manager 7 has a number of interesting features, which although can be found in competitor's products, never existed within a single tool. The program can be used to replace tools for scheduling, calendar, spreadsheet, or text editor, at least in the context of managing a project. Particularly interesting was the server variant of this tool.
The speaker, in addition to presentation of his tools, drew attention to the key factors of success in managing a portfolio of projects; he also, as other speakers, stressed the importance of communication, and based on the biblical example of the Tower of Babel pointed out that even when the budget is available, there are free resources, and the technology is known an mastered, every project, program or portfolio must fail without a common language. At the same time he stressed that there is no portfolio management methodology ideally suited to all organizations – it always have to be tailored to organization's needs.
Another speech was delivered by Mariusz Chudy, Head of Project Management Department at Orange S.A.. It was a case study of the transformation of the PMO in the Department of Business Solutions Delivery (B2B area). In his presentation, Mariusz shown approach to this transformation – from what the construction of the PMO was started, ie to ensure an adequate "queuing" of reported initiatives in many portfolios, and PM and architects availability management. He described it as the foundation of a well-functioning PMO, and only later it is planned to implement elements of the Agile approach, specialized Competence Centre within the PMO, or so-called "Integrated Delivery". A very important point was that this PMO has its development plan defined and approved, which – in case of many organizations – can eliminate various problems, for example due to changes in staffing and budget planning. Mariusz's presentation was very interesting and raised a lot of questions, which then turned into discussion at the round tables. This was – besides lunch and coffee breaks – the best time to make new friends among practitioners in the PPM industry.
After the case study and group discussions, it came the time for the most important point of the conference's program: PMO Award. Awards are presented annually in two categories – the fastest growing PMO and most mature PMO. The competition is designed so that all organizations which have PMO in their structure can apply; even two PMO's from one company. Project Management Offices register their participation in this competition on special, predefined forms, in which they describe their achievements of the past year. Descriptions provided by different organization can reach up to 20 pages in its volume, which shows the commitment of teams to fight for the PMO Award. But – let's face it – prestige is not the only thing that counts. Winners of the contest receive two free trainings for the teams, or audit that will measure the maturity level along with PMO development plan, prepared and delivered by the main organizer of the conference and the sponsor of the awards, WHITECOM Project Experience company.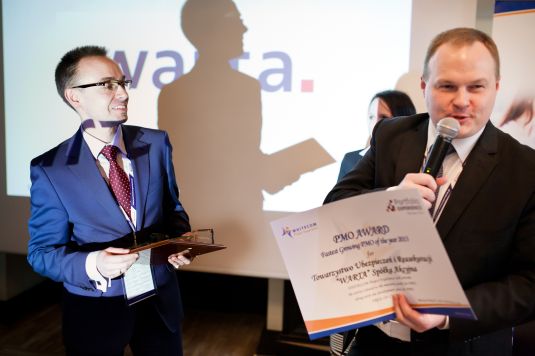 This year's PMO Award edition winners were: in the category of fastest growing PMO – TuiR Warta S.A., in the category of most mature PMO: Provident Polska S.A.. Awards were handed out by the Programme Board composed of: Maciej Bodych, President of WHITECOM Project Experience, Witold Hendrysiak, President of the Project Management Institute Poland Chapter, Krzysztof Tomkiewicz, President of the Governica Foundation, Jerzy Stawicki, PhD, Partner in JSProject, and Michał Rączka, Director of IT at the Allegro Group. Awards were received on behalf of their organizations by Mrs. Karolina Mitraszewska (Provident Polska S.A.) and Mr. Przemysław Romaniuk (TUiR Warta S.A.).
The last module of the conference began after a short coffee break, and contained presentations of two veterans of English-American PPM scene: Briton Paul Hodgkins and American John Berghout. Paul had worked for the most of his live at Siemens, where he came right after graduation (as he puts it, he "was caught by the catcher"), and completed there the vast majority of the career path, from a simple employee to director of sales support, ultimately leading the PM@Siemens program, which lasted many years. Paul spoke about the idea of virtual PMO, and focused on updating the methodology of project management within a large company, which Siemens most certainly is. He put numerous examples of his long professional experience. Paul said that the PM@Siemens program was launched because of the numerous deviations from the costs and benefits declared at the start of projects, and had to include systematization of knowledge on project management throughout the organization. It was a very important project, because approximately 50% of Siemens revenues is generated by the projects. Around every 3 years a new version of printed book of good practices for PM's is delivered, and each new edition is thicker than the previous one. Siemens has created a certain inner product that employees read not because it's obligatory, but because they need it, and this product was able to satisfy their need for knowledge; subsequent editions were issued due to the numerous bottom-up suggestions and feedback from readers, and the manual "grew" by itself. The 2009 edition contained subjects such as portfolio processes at Siemens, design control, procurement in projects, contract management, quality management in projects, or paths of project manager development at Siemens.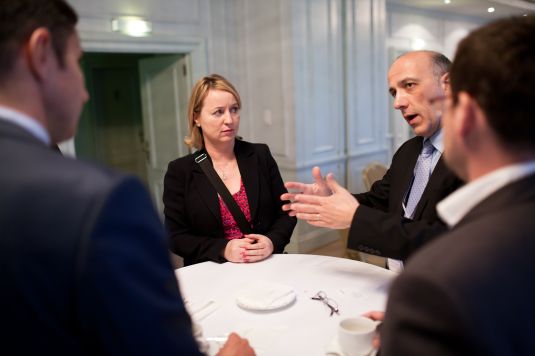 The speaker also mentioned such important elements, like: Siemens' approach to projects, how the projects were defined, what were the categories, what was important in the process of prioritizing and adding projects to the portfolio. He stressed that the position of project manager and project portfolio manager does not rely on performing some everyday actions. Paul said that it is more a profession than just a job, and keeping the organization in such belief allows you to build better career paths and reduce the degree of staff turnover. It is worth noting that Paul Hodgkins is a figure so important to the British PM and PPM environment that in 2009 he was nominated by the Project Magazine as one of the 10 most influential people in area of project and project portfolio management in the UK.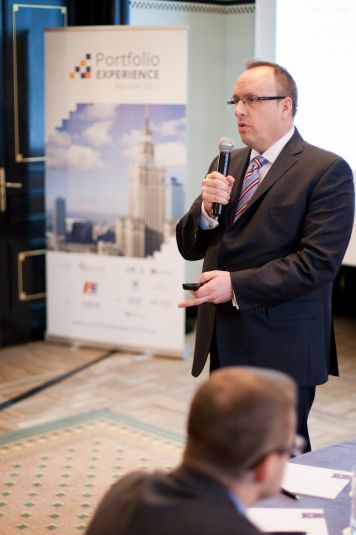 The last of the speakers was an American working for a British bank – Barclays – John Berghout. John spoke about translating the organization's strategy into projects portfolio, but maintained all in the context of the constantly changing world, and supported his speech by his over 15 years of experience in companies such as CapGemini, JP Morgan and Barclays, where he is a director of change and transformation. His presentation was very inspiring, even eye-opening in some aspects, and most contributing to this feeling was "World after Midnight" short movie, which message was that we should plan our strategic efforts in a way not to sleep through radical technological, civilization, or socio-cultural change. Today there is nothing that can prevent a large bank's entrance to the mobile phone market, or a development of investment fund by a retail corporation. In view of this possibilities, you need to build project portfolio which is open for innovations. John emphasized the value of Agile approach in the implementation of projects, indicating that 50% of key functionalities of delivered software is never used. According to what he said, every project should focus on MVP – Minimal Viable Proposition, or limit its scope to a minimum, which will speed-up its development, reduce costs, and maximize benefits. The usage of this approach at the level of roadmap development is able to release some budget and resources and let them be used on some innovative projects, which always lacked funding.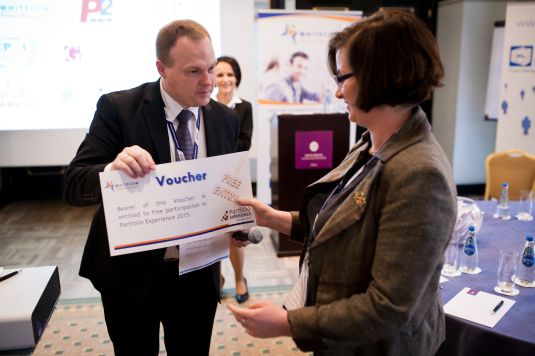 The last speech was not the end of the conference – there was also a lottery based on questionnaires. A free participation in next conference was drawn, as well as 10 free books from British publisher Gower. People who filled out the questionnaire on WHITECOM Project Experience stand also took part in the draw for free entrance for portfolio or program management training, as well as basic or advanced PMO training.
The event ended up in a very positive atmosphere and the survey quite clearly indicate that the participants loved the conference, and would like to see the next edition… which will – of cource – take place in 2015. Details of Portfolio Experience 2015 will be presented soon on www.portfolioexperience.pl.
We would like once again thank event sponsors: Gold Sponsor – P2Ware, Silver Sponsor – ATCG, event partners: Project Management Institute Poland Chapter, Governica Foundation, SKNZP, AgileWarsaw Association, as well as our media partners: Project Management Magazine, ITWIZ, and 4PM.pl. Special thanks to the conference team and volunteers.
For everyone interested in videos from the Portfolio Experience 2014 conference, please see our official YouTube channel: